Yes, I nearly had to seek immediate medical help, because the mojo lasted longer than 4 hours this past weekend! I went to Joann and bought the pattern and fabric, so this cost $37 due to the pattern not being on a huge sale, and I had limited couponage. Still the cheapest bathing suit compared to store-bought. So this is McCall's
6759
, and here's the envelope pic.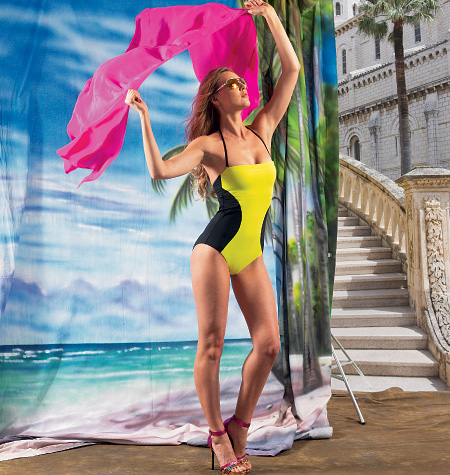 Oh, here's my cheap imitation pose - I couldn't remember exactly what she was doing.
And I don't have quite the same thighs and boobage (
the bra cups gave me fits!
), but you know what? I'll take it! It is definitely low-cut, and if I make it again I'll lengthen the whole torso, front and back. But it feels very comfortable on, so the real test will be when it gets wet. I didn't take the time to do a shower test as previously recommended by Becky or Robbie. Let's review some construction, shall we? Here are the "sew-in" cups that I've never been able to make work.
The elastic made the side seams pull very oddly when I sewed back to front, so I ripped this out and did the pattern-recommended piece of elastic across the front lining, and I kept it out of the side seam. Then you add optional bra cups before you sew the top together with the elastic. Of course, you have to tack them in or they'll just slide right down the front!
Another boo-boo was that I was moving as quick as possible, and forgot that the side panels were black, not contrast fabric - duh! Had to look up a video on ripping out serger seams - bleh. Lucas suggested leaving it as is, but I showed him that the point of this swimsuit is to slim you, not fatten you up.
And then this little step of applying the back strap elastic was confusing because there's a seam allowance included on the side part that wraps around your elastic when you turn it up to topstitch - odd, but I figured it out.
Eh, not terribly slimming in my opinion, but maybe from a distance I won't look 3 months pregnant.
The back is kind of cute, and I'm so lucky to have scavenged an S-hook from an old bathing suit, because Joann didn't carry them, and I couldn't bring myself to go back in Hancock - it's so cluttered and dirty now! Why don't they scrub the floors?!
Okay, so I'll get pics of both swimsuits in action (
or inaction while drinking a fruity cocktail
) soon, but you have a great weekend in the meantime, and feel free to share your swimsuit boo-boos or successes. Katrina, I saw a comment you left on PR that mentioned you were making one - is it done? Have you reviewed it yet?